About us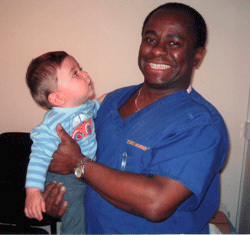 St Jude's Fertility Clinic is a specialist healthcare provider of Fertility & Assisted conception services . It is privately owned and has been in operation since 2002.
The clinic is named after St Jude, the Patron Saint of HOPE. Most couples who have or are still on the Fertility Journey will appreciate the essence of HOPE (and not giving up) in order to reach the desired destination of having a baby (or babies).
Since its inception, St Jude's Clinic has helped many couples from different corners of the globe to achieve their heart's desire of having a family. Indeed, in December 2013 we celebrated the birth of the 1000th child born through treatment at the clinic. This is remarkable. We are not resting on our oars. We believe the future holds greater progress.
St Jude's is committed to delivering high quality fertility care in a compassionate and caring environment. Over the years we have achieved many significant milestones:
One of the first clinics to start offering Blastocyst-stage embryo transfer as standard, well before it became "fashionable".
St Jude's was in top 10 clinics in 2008 according to HFEA published success rates.
The Medical Director, Mr J. Adeghe was nominated for an award by the INFERTILITY NETWORK (a non-Governmental Advocacy body for Infertilty in the UK) in 2008.
One of the first fertility clinics in the UK to offer free IVF cycles (on a lottery basis).
One of the first clinics in the UK to organise support evenings (Night of Hope) for couples experiencing a very difficult fertility journey.
A cross reference to the
testimonials
section of this website will further emphasise the unique points about St Jude's Clinic as expressed by ex-patients.
More information about our services can be found
here
.
Clinics
St. Jude's Women's Hospital
263 Penn Road
Penn
Wolverhampton
WV4 5SF

St Jude's Hospital
Sandy Lane, Newcastle-u-Lyme,
Staffordshire
ST5 0LZ